ERW pipe (electric resistance welded steel pipe) is a kind of welded pipe, which is made from steel coil with a longitudinal welded seam. ERW pipe is versatile in the industry, which plays an important role in gas and fluid conveying and storage. The common materials include Q235, Q235F, Q195, and other steels. There are some advantages of ERW pipes:
1. No filler metals are used during the manufacturing process, which makes the pipes more durable and stronger. ERW pipe is welded by high-frequency current so that the edge of the steel sheet is instantly heated and the weld is formed by extrusion roller.
2. No obvious welded seam. This is a major difference between SAW pipes and ERW pipes.
3. The electric resistance welding process is safer and easier.
[one_third]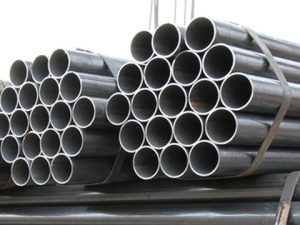 [/one_third][one_third]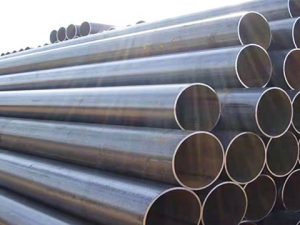 [/one_third][one_third_last]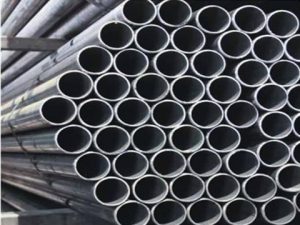 [/one_third_last]
ERW Pipe Production Process
The following is the general process of making electric resistance welded pipes by Wanzhi Steel for your reference.
Raw material → coiling → uncoiling → clamping and leveling → shearing and butt welding → horizontal spiral bushing → disc shearing → rough forming and fine forming → induction welding → internal and external burr elimination → intermediate frequency weld heat treatment → air cooling → water cooling → online ultrasonic testing → 2 sections and 8 racks of sizing and straightening → rolling and cutting → spraying tube number → output rollaway → double transition table → flush chamfering → appearance inspection → geometric dimensional inspection → sampling → hydrostatic test → tube end UT weld inspection → offline weld UT inspection → spraying marking → delivery to warehouse → factory
[one_half]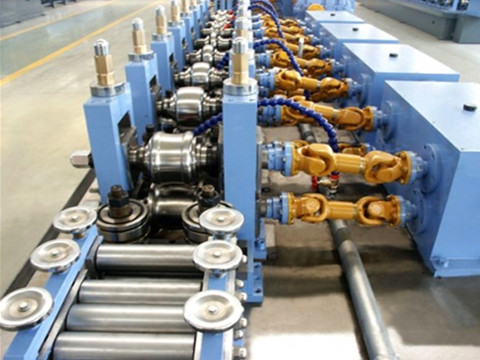 [/one_half][one_half_last]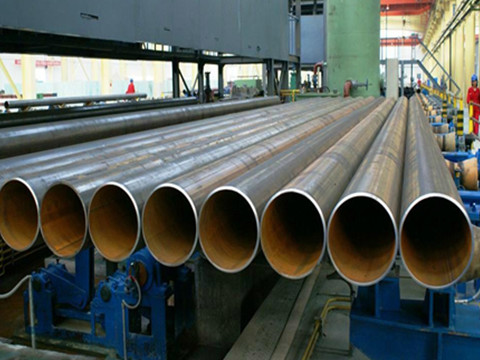 [/one_half_last]
Pre-production Preparation
1. Check whether the strip coil appearance size is the required strip for production. Next, check if there is any defect in the strip steel.
2. Check whether the machine can operate normally.
3. To avoid accidents such as bruising and extrusion, the operating workers should be prepared for safety in advance.
Wanzhi Steel is known for its quality and is gradually becoming more and more popular among customers. Every step of our process ensures that quality standards are met so that our customers can get high-quality electric resistance welded pipes. If you are interested in visiting our factory, you can contact us for a video tour.
[one_third]
[/one_third][one_third]
[/one_third][one_third_last]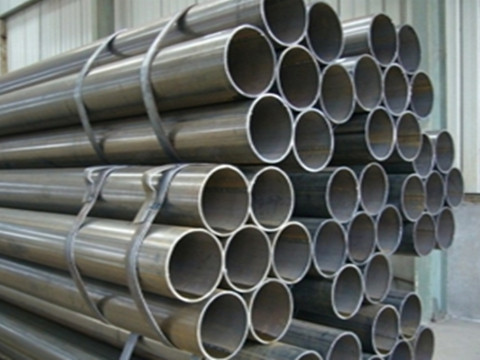 [/one_third_last]
Storage Methods for ERW Pipes
1. Storage by Specification
Packaged electric resistance welded pipes should be stacked by specification and placed neatly to avoid confusion. Storing by specification will not confuse and is easy to identify.
2. Reasonable Stacking
When stacking electric resistance welded pipes, remember not to stack them too high, generally, five layers are appropriate. In addition, there should be a pedestrian passage between the piles to facilitate workers to walk.
[one_third]
[/one_third][one_third]
[/one_third][one_third_last]
[/one_third_last]
Finished Product Delivery – Wanzhi Steel
1. About Delivery Time
Wanzhi Steel will ship the products within the mutually agreed time to avoid the delay of your project. In addition, our factory has a large stock of ERW pipe, so if you need resistance welded pipe urgently, we can meet your demand.
2. About the Quality
Before shipment, Wanzhi Steel will conduct strict quality inspections on the finished products. Our factory is equipped with advanced testing equipment, and only after passing the test will the electric resistance welded pipe be shipped out. In addition, we also accept third-party testing to give you more peace of mind.
[one_third]
[/one_third][one_third]
[/one_third][one_third_last]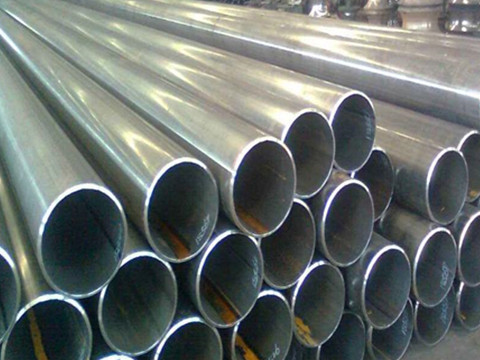 [/one_third_last]
Conclusion
Wanzhi Steel has a complete range of welded pipes, including ERW pipes, LSAW pipes, SSAW pipes, and so on. We have been in the steel industry for 17 years and can provide quality steel pipe products to customers all over the world. If you order our products in large quantity, you will also enjoy factory sales price. Contact us now to get the latest quote.