Longitudinal Welded Pipe
Longitudinal welded pipe is a versatile material for liquid or gas transportation or for structural purposes. It is widely used in water supply engineering, the chemical industry, the electric power industry, agricultural irrigation, urban construction, and other industries. Wanzhi Steel has both ERW and LSAW production lines with an annual output of 150,000 tons. Below are more specifications for your reference.
Specifications
Product
ERW
LSAW
Diameter
Φ114 mm- Φ660 mm
Φ300 mm – Φ1422 mm
Wall thickness
4-25 mm
8 mm-50 mm
Length
3 m-14 m or as per your requirements
3 m-14 m or as per your requirements
Materials
Q195, Q215A, Q235A, Q235B, alloy steel, stainless steel, etc.
What Is Longitudinal Welded Pipe?
Longitudinal welded pipe is a kind of welded pipe, with a straight welding seam. It made with a hot-rolled or cold-rolled steel plate or steel strip coil and then be welded into pipes. In comparison, the strength of spiral welded pipe is generally higher than that of straight seam welded pipe. But the longitudinal welded pipe is cheaper in price because its production process is simpler and the welding seam is much shorter.
According to the different production processes, it is divided into longitudinal submerged arc welded pipe (LSAW) and high-frequency resistance welded pipe, also known as electric-resistance arc welded pipe (ERW). Wanzhi Steel has different equipment to manufacture different pipes in various specifications, materials, and lengths to better meet your needs.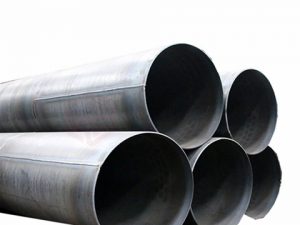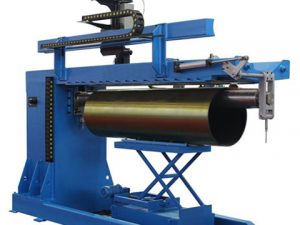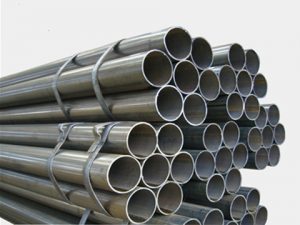 Benefits and Uses of Longitudinal Welded Tube
Benefits:
1. Simple production process
2. High production efficiency
3. High strength
4. Not easily deformed
5. Low cost
Uses:
1. For liquid conveying: water supply and drainage piping.
2. For gas transportation: gas, steam, LPG pipeline.
3. To do structural use: piling pipe, bridge, road, building structure with pipe, etc.
4. Longitudinal welded pipes for automobiles: muffler, transmission shaft, thrust pipe, condenser, exhaust pipe and pipe for maneuvering shaft, shock absorber oil storage pipe, etc.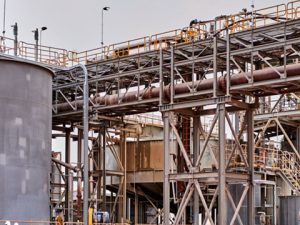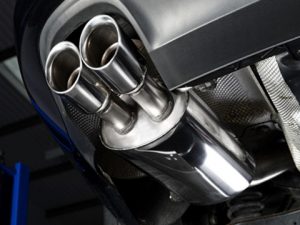 Longitudinal Welded Pipe Manufacturing Process
Below is its manufacturing process for your reference.
Raw material uncoiling → Flattening → End shearing and welding → Live sleeve → Formin → Welding → Inside and outside weld bead removal → Pre-calibration → Induction heat treatment → Sizing and straightening → Eddy current testing → Cutting off → Hydrostatic inspection → Pickling → Inspection (strict control) → Packing → Shipping.
Pre-welding preparation:
1. The welding place should be flat, clean, and free of debris.
2. Check whether the welding equipment and tooling are in good condition.
3. Check the wear and tear of the conductive nozzle, oil, and dirt and clean and replace it in time.
Our workers take every production detail seriously to ensure you get the perfect longitudinal welded tube. In addition, we can provide custom cutting, welding, beveling, flaring, and coating services. If you have any other questions, you can contact us for more details.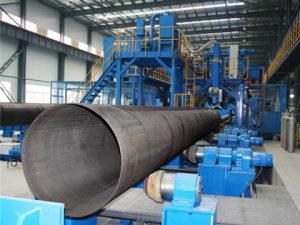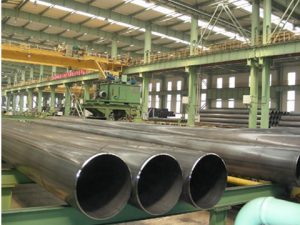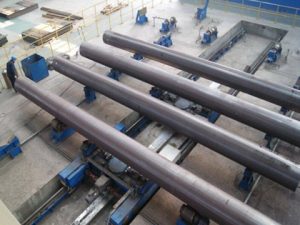 Longitudinal Welded Pipe Manufacturer
Wanzhi Steel, as a top manufacturer of longitudinally welded tubes, has 17 years of experience in the steel industry and 12 years of export experience. Our good service attitude and high-quality products have made us famous in the industry. Next, take a look at what advantages the longitudinally welded tubes produced by Wanzhi Steel have compared to other manufacturers.
1. Flat Cutting Surface
We use a mature cutting process to ensure that the cut surface of the longitudinally welded tube is flat and burr-free. In addition, we use standard raw materials to ensure that you get the best quality longitudinal welded tube.
2. Accurate Tolerances
Wanzhi Steel's factory is equipped with high-end processing and testing equipment. In addition to machine inspection, our staff will also conduct a manual inspection. We ensure that each batch of longitudinally welded tubes has accurate tolerances and you can buy with confidence.
3. Complete Products
Wanzhi Steel has a complete range of steel pipes, including carbon steel pipes, galvanized steel pipes, and stainless steel pipes. Not only that, but we also provide various specifications of steel pipe products to meet the needs of different customers.
4. Cutting Customization
Wanzhi Steel provides processing services such as cutting, punching, and surface treatment to meet the needs of large customers. Welcome to contact us for more details.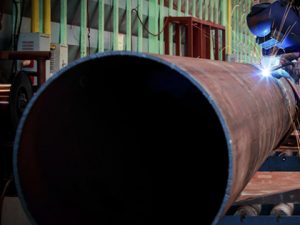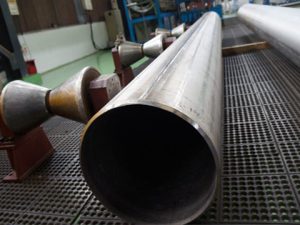 How to Store Longitudinal Welded Pipes
When storing longitudinal welded pipe, mastering the correct storage method can extend its service life. Here Wanzhi Steel will tell you how to store it properly.
1. Choose A Suitable Site
When storing longitudinally welded tubes, it is best to use a common closed type of warehouse. The warehouse should be equipped with ventilation devices. Pay attention to ventilation on sunny days, close the moisture-proof on rainy days, and often maintain a suitable storage environment.
2. Classified Storage
When storing, remember not to put the welded longitudinal pipe and other steel together. Because storing longitudinally welded tubes and galvanized steel tubes or stainless steel tubes together will cause contact corrosion. In order to avoid confusion and prevent corrosion, each type of steel should be stored separately.
3. Keep Away from Harmful Substances
Whether stored indoors or outdoors, there should be no acid, alkali, salt, or cement, which are harmful to steel. Once longitudinal welded pipe and these corrosive substances contact will greatly reduce its service life.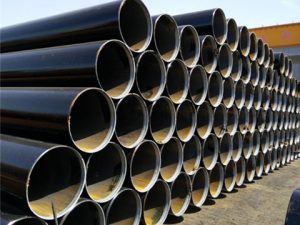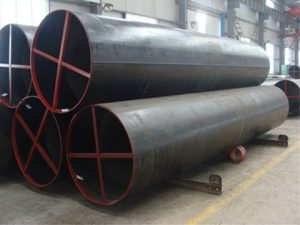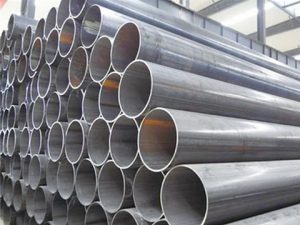 Request Price for Longitudinal Welded Tube
Due to the high price fluctuation in the steel industry, the price of longitudinally welded tubes fluctuates daily. If you are planning to buy a longitudinally welded tube, please feel free to contact us. Our business manager will quote you a price based on the specific specifications you need, shipping distance, and other factors.
Conclusion
Wanzhi Steel is a reliable longitudinal welded pipe supplier and manufacturer in China, which offers a variety of welded steel tubes in prime quality. We employ advanced steel pipe production equipment and quality test equipment to serve clients all over the world. Except for longitudinal welded pipes, we also have spiral welded pipes and seamless pipes to choose from. Also, we provide custom solutions, including the specifications, finishes, packaging, etc. according to your requirements. Welcome to contact us for more details!