Galvanized Pipe for Sale
As a leading steel tubing manufacturer and supplier, Wanzhi Steel has a wide selection of galvanized pipes for sale, including hot-dip galvanized and electro-galvanized pipes. These pipes provide high durability and a shiny silver surface. While they are more affordable than stainless steel pipes. Therefore, galvanized steel pipe is a versatile material in construction, automobile industry, chemical industry, coal mining, and other industries. It can be used for conveying gas and heating, railings, fencing, scaffolds, support structures, etc. Wanzhi Steel offers a range of galvanized pipes and tubes to meet your needs. Welcome to contact us for more information.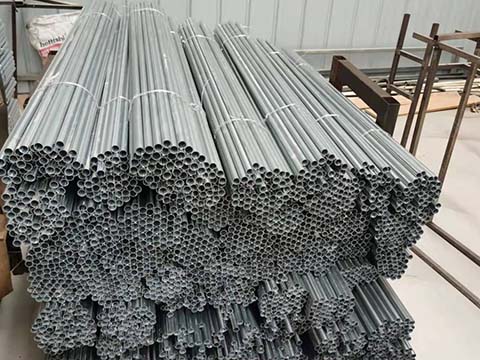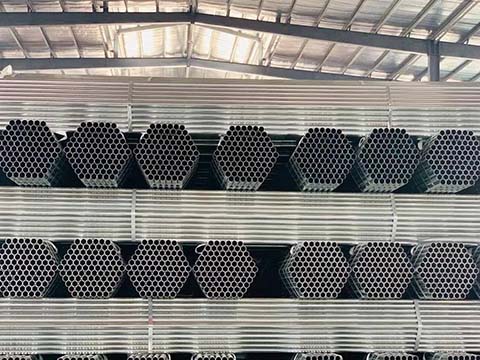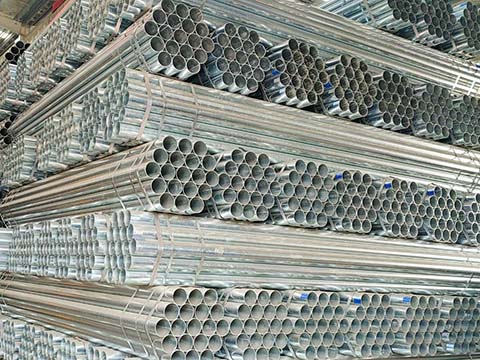 Galvanized Pipe Sizes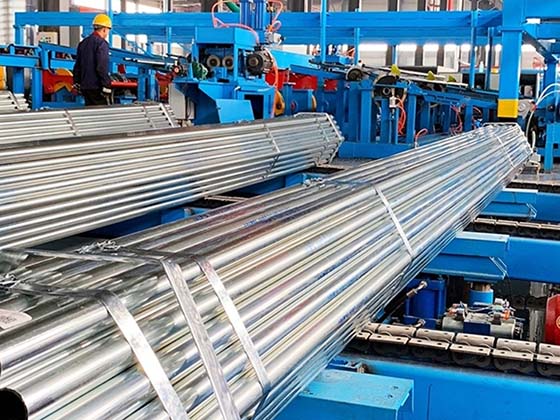 Product
Galvanized steel pipe
Outer Diameter
21.3 mm ~ 406.4 mm
Thickness
0.6 mm ~ 20 mm
Length
6 m/12 m or by customer's requirements
Grade
A53(A, B), Q235, Q345, Q195
Types
Hot-dip galvanized and Electro-galvanized pipes
Zinc Coating Thickness
Pre-galvanized steel pipe: 30-50 g/㎡
Hot-dipped galvanized steel pipe: 40-400 g/㎡
Tolerance
±5%
Processing Service
Welding, Punching, Cutting, Bending, Decoiling
Advantages
Anti-corrosion, High durability, Easy to process
Applications
Conveying gas, oil, and fluid; Boiler pipe; Pipes for heaters, condensing coolers, etc.; Construction uses, such as support structures, railings, fencing, scaffolds; etc.
Packaging & Delivery
Package Details
1. Inner packaging: Each bundle of galvanized pipes is equipped with two nylon slings;
2. Outer packaging: wrapped with waterproof tape;
3. We can also package according to customer requirements.
Shipping
1. Transportation by container
2. Transported by bulk ship
We guarantee on-time delivery within the contracted time frame to get your project up and running. If you have any additional questions, please feel free to contact us for more details.
Galvanized Tube VS Galvanized Pipe
In common usage, the words pipe and tube are usually interchangeable. But they are  A pipe is a round tubular section, which is mainly used for conveying fluids and gases. It is designated by a nominal pipe size (DN) that represents the liquid capacity of the pipe. While a tube can be round, rectangular, square, etc., which is measured by outer diameter (OD) and wall thickness (WT), in inches or millimeters. Below is a table for your reference.
| | | |
| --- | --- | --- |
| Items | Pipe | Tube |
| Hollow Section Shape | Round only | Round, rectangular, square, etc. |
| Tolerances | Tolerances are set, but rather loose | Very strict tolerances |
| Measurement | By a nominal diameter with a constant outside diameter and a schedule that defines the thickness | Specified by the outside diameter and wall thickness |
| Delivery time | Shorter | Longer due to the laborious manufacturing process |
| Market price | Lower | Generally higher |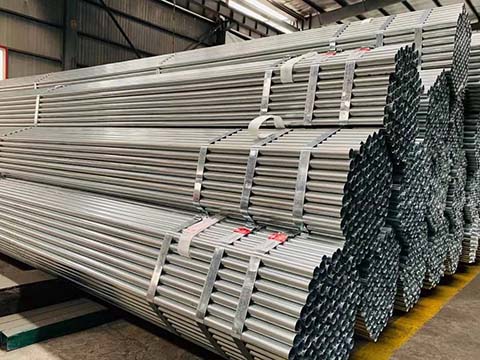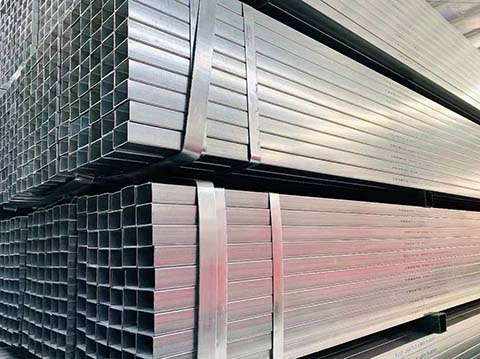 Galvanized Steel Pipe Type
Considering the galvanizing process, it can be divided into hot-dip galvanized and cold-dip galvanized. Hot-dip galvanizing is the melting of zinc, while cold galvanizing is done primarily by electrolysis. They are very different in production, but the finished products are similar in performance and both offer good corrosion protection. Besides, it can be divided into seamless & welded steel pipes from the production method. Below we will compare the different types. You can choose according to the use environment. If you have any questions, please feel free to contact us!
1. Hot dipped Galvanized Pipe for Sale
Hot-Dip galvanized pipe is more versatile than cold-galvanized pipe. The manufacturing process is using steel pipes of removed rust dipped into zinc liquid of 450 ℃, and making a zinc layer adhering to the steel surface to protect steel from rusting. This process will form zinc carbonate (ZnC03). Zinc carbonate is a strong material that protects steel and can prevent corrosion in many circumstances. After galvanizing, it will go through the inspection system to check the coating thickness and appearance. Moreover, we will also check the wall thickness, uniformity, adherence, and appearance before packaging. Generally, the thickness of hot-dip galvanized pipe widely ranges from 35 μm to 400 μm. The advantage of a hot-dip galvanized steel pipe is that it has strong anti-corrosion ability, and the adhesion and hardness of the galvanized layer are better. Therefore, it is very durable to use.

2. Cold Galvanized Steel Pipe for Sale
Cold galvanized steel pipes are also known as electro-galvanized steel pipes. This method of galvanizing protects the steel pipe against corrosion. The use of the cold galvanizing process improves the wear resistance, electrical conductivity, reflectivity, and aesthetics of the steel pipe. However, the zinc content of cold galvanizing is only 10-50 g/㎡, so the zinc layer produced by this process is thin and simply adheres to the steel pipe substrate, which can easily fall off.
Difference Between Hot-dip Galvanized and Electro-galvanized Pipe
1. The thickness of hot-dipped galvanized pipe widely ranges from 30 μm to 70 μm. While cold zinc layer thickness ranges from 5 to 15 μm. This is the reason why hot-dipped galvanized pipe has better anti-corrosion performance than electro-galvanized steel pipe.
2. The overall appearance of the hot-dip galvanizing pipe is slightly rough with spangles. While the surface of the cold galvanized pipe is relatively smooth, and the spangles are even.
3. The hot-dip galvanized zinc layer has better adhesion and hardness. However, cold galvanizing has a thin zinc layer, so the adhesion is worse than that of hot dip galvanizing. Therefore, it is easy to fall off in a humid environment.
4. The service life of hot-dip galvanized steel pipe is better than that of electro-galvanized steel pipe. Generally, the service life of hot-dip galvanized steel pipe can reach about 50 years. Moreover, it is of low maintenance.
Hot-dip galvanized steel pipe has a better anti-corrosion effect and long service life, and the price is relatively cheap. Therefore, hot-dip galvanizing is often used in industrial applications.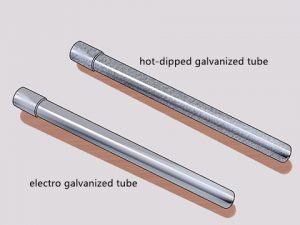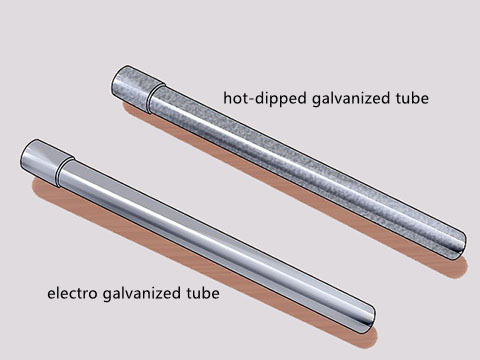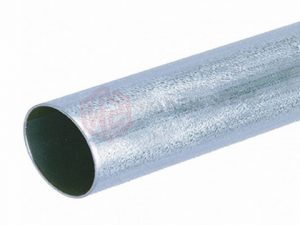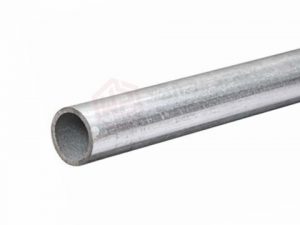 Applications of Galvanized Steel Pipe
The galvanized tube is used in a variety of settings. Below are the applications of pre-galvanized steel pipes in various industries.
1. Gas and Liquid Transportation
Galvanized steel tube is widely used to transport low-pressure fluid, such as gas, water, steam, etc. Moreover, it is also used as oil well pipes and oil pipelines in the petroleum industry, especially offshore oilfields.
2. Plumbing
The material of the galvanized round steel tube is suitable for both outdoor and indoor plumbing, even in harsh weather conditions, and it is easy to install and saves engineering time.
3. Automobile and Aerospace Industry
The galvanized tube is suitable for the automotive and aerospace industries because it is a light and durable material that can effectively reduce costs while achieving its goals.
4. Agriculture
A large number of agricultural manufacturers choose to use the galvanized tube. because it can make the greenhouse more sturdy and prevent pipes corrosion in a humid environment.
5. Fence
Galvanized pipe is often used for fencing in homes, courts, and shopping malls because of its strength and corrosion resistance. Fences made of galvanized pipe are common in our lives and are aesthetically pleasing.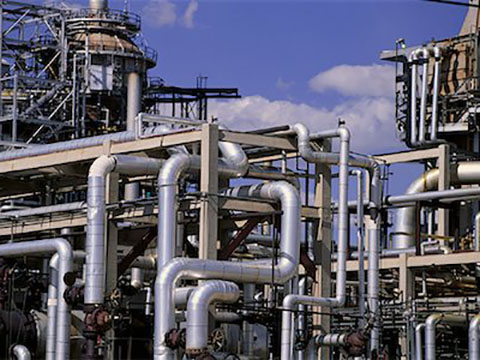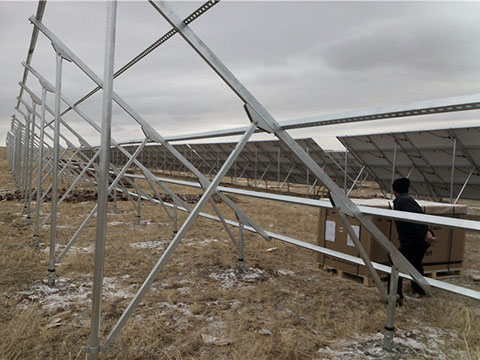 Difference Between Galvanized and Carbon Steel Pipes?
1. Different Coatings
Galvanized steel pipe is covered with a zinc coating on the surface through a hot-dip galvanizing or cold-galvanizing process. And there is no zinc layer on the surface of the black steel pipe.
2. Different Appearance
The zinc coating makes galvanized pipes smooth, slightly shiny, and silver in color. While carbon steel pipes are black. That's why it is also called "black pipe".
3. Different Durability
Compared with black carbon steel pipes, galvanized steel pipes are more resistant to corrosion due to the protection of the zinc layer, especially the hot dip galvanized steel pipe. Generally, the thick the zinc coating, the longer the service life. Galvanized pipes will be more durable than common carbon steel pipes.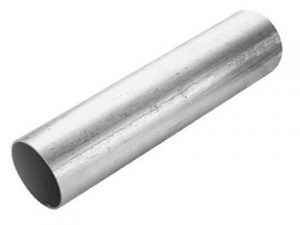 Why Choose Wanzhi Steel?
If you are looking for galvanized pipe for sale, you need to buy from qualified manufacturers. A good supplier will provide high-quality products and excellent after-sales service, like Wanzhi. Next, we take you through what benefits you can get from choosing Wanzhi Steel.
1. Complete Range of Products. We can provide you with a wide range of steel pipes and tubes in different materials, grades, and sizes. Besides, we offer value-added services to offer you custom solutions to better meet your special requirements.
2. A wealth of Experience. Wanzhi Steel has been in this industry for about 20 years. Also, we have rich export experience and our products have been sold all over the world, such as Egypt, Germany, etc. Plus, with our multilingual team, we will largely save you time and money.
3. Quality Assurance. Each batch of our steel pipes will go through a strict quality inspection, including machine and manual inspection. Also, third-party testing is acceptable.
4. Factory Direct Sale Price. Wanzhi Steel can offer factory sales prices. Besides, we will have discounts for large volume orders. So welcome to talk with us for the latest price here.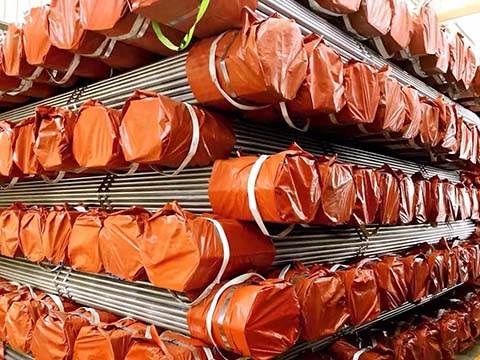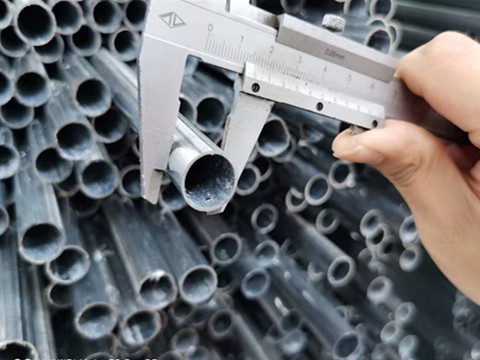 Conclusion
Wanzhi Steel is committed to providing customers with high-quality steel pipes and tubes. Except for galvanized pipe for sale, we also have stainless steel tubes to choose from. With our professional R&D team, we can provide a one-stop service from the material, processing, and packaging. In addition, Wanzhi Steel has more than ten years of experience in customizing steel pipe processing. Therefore, we can offer custom solutions for your special projects. If you want to know about galvanized pipe prices, contact us now to get the latest quote.