SAW Steel Pipe
SAW steel pipe (submerged-arc welded steel pipe) is suitable for fluid conveying, metal structure, pile foundation, etc. Wanzhi Steel has a set of JCOE equipment to produce large-diameter submerged arc welded pipes. The SAW pipes are available with diameter of 325 mm to 1,420 mm, and wall thickness of 6 mm to 50 mm. Our products are very popular for water engineering, petrochemical industry, chemical industry, electric power industry, agricultural irrigation, and urban construction, etc. If you are looking for such pipes for your project, contact us now for more details.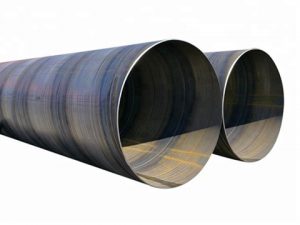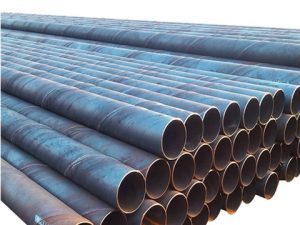 SAW Steel Pipe Specifications
| | |
| --- | --- |
| Product | SAW pipe |
| OD | 325 mm – 1420 mm |
| WT | 6 mm – 50 mm |
| Length | 6 m/12 m or by customer's requirements |
| Application | Used for Oil/Gas/Water transmission, Construction, and Structure Parts |
What Is SAW Pipe?
The full form of SAW pipe is submerged-arc welded pipe. It is a kind of welded steel pipe, which uses steel strip coil as raw material, and then be crimped and welded into pipes through automatic submerged arc welding process. According to the welding seam, it can be divided into longitudinal-seam submerged arc welded pipes (LSAW pipes) and spiral submerged arc welded pipes (SSAW pipes).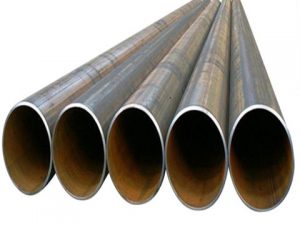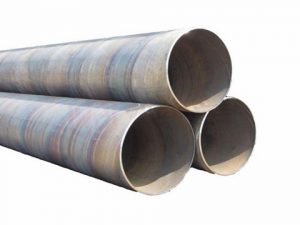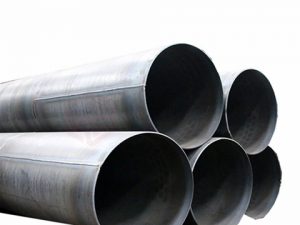 Advantages of SAW Pipes
1. Large Diameter Steel Pipes
At Wanzhi Steel, we offer a wide range of SAW steel pipes to better meet your needs. The diameter is available from 325 mm to 1,420 mm and the wall thickness is from 6 mm to 50 mm. Besides, the regular length is 6 m, which can be customized to your requirements.
2. Good Insulation Performance
The thermal insulation performance of submerged arc welded steel pipe is excellent, which can save a lot of energy in long-term operation and significantly reduce energy costs. If your project requires thermal insulation performance, you can choose insulation anti-corrosion double-sided submerged arc welded pipe.
3. Long Service Life
The service life of submerged arc welded steel pipe is up to 30-50 years. With proper installation and maintenance, it can last even longer.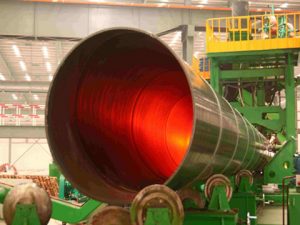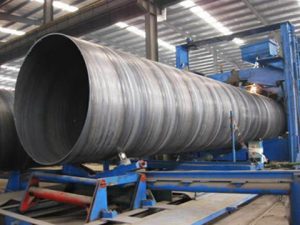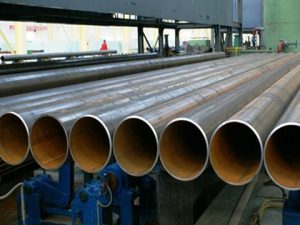 4. Low-temperature Resistance
Double-sided submerged arc welded pipe has good corrosion and impact resistance even at low temperatures and can be buried directly into the underground permafrost. It can resist low-temperature erosion and is a good choice for underground projects.
5. Easy Construction
If you purchase SAW to use it for an underground project, it can be buried directly into the ground or water, making construction easy and quick.
6. Alarm System Can be Set
An alarm system is installed on the submerged arc welded pipe. Then when it has a leakage fault, it can accurately indicate the fault location and automatically alarm.
Submerged Arc Welded Pipe Uses
Welded pipe is highly versatile for many applications due to its lower cost and more specifications available. Submerged arc welded pipe is widely used in the chemical, petrochemical, oil, and gas industries for the transportation of flammable or explosive liquids. In addition, it can also be used in the mining industry, such as water and slurry transportation. In recent years, SAW pipe has been used for hot and cold water piping in building construction.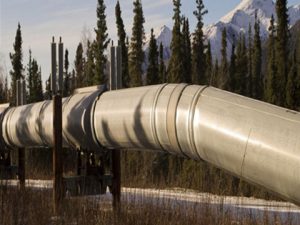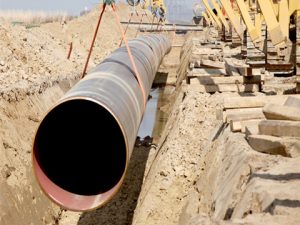 SAW Pipe Manufacturing Process
SAW pipe can be divided into LSAW pipe and SSAW pipe. The following is the production process of a large diameter LSAW pipe for your reference.
Plate ultrasonic flaw → Flame cutting down → Milling → Pre-bending → Forming → Seaming → Pre-welding → Inner welding → Outer welding → Correction → Steel pipe flaw detection → Traverse → Inspection
At Wanzhi Steel, we have automatic submerged arc welding equipment and also complete quality inspection instruments, such as digital ultrasonic flaw detector, hydrostatic pressure test machine, tensile testing machine, X-ray real-time imaging machine, etc. All our products strictly meet quality standards, like GB/T9711-2017, GB/T3091-2015, etc. That's why our products are widely used in oil and gas, chemical, shipbuilding, heating, water supply and drainage, pipelines, steel structures, and other fields.
Submerged Arc Welded Pipe Quality Inspection
The submerged arc welded pipes produced by Wanzhi Steel go through layers of testing to ensure their quality is qualified. Here are some testing details for your reference.
1. Raw material Testing
The raw materials of submerged arc welded steel pipe are strip coil, welding wire, and flux. These materials are subject to strict physical and chemical tests before production.
2. Weld Seam Inspection
Submerged arc welded pipe welds produced by Wanzhi Steel Factory are inspected by an online continuous ultrasonic automatic flaw meter to ensure 100% nondestructive testing coverage of spiral welds. If there is any defect, our workers will adjust the process parameters at any time to eliminate the defect in time.
3. Post-forming Inspection
After the production is finished, we will have a special quality inspection department to test whether the submerged arc welded pipe is qualified. We will ship the products only after the quality inspection is qualified. In addition, we also support third-party testing if you need.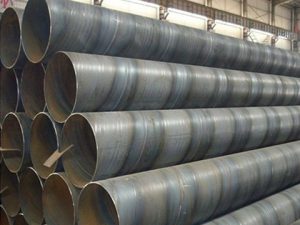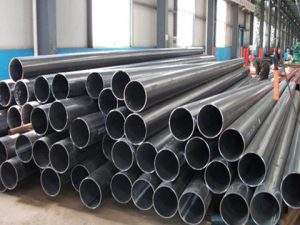 Conclusion
Wanzhi Steel is a leading steel pipe manufacturer and supplier in China. Our factory is located in Hebei Province. Except for SAW steel pipes, we also produce seamless pipes, spiral welded pipes to better meet your needs. Besides, we offer valued services, such as galvanizing, cutting, etc. Moreover, as an experienced trading company, we also act as an agent for Baotou Steel, Baosteel Group, Wuyang Steel, Anshan Steel Group, and other large national steel enterprises. We are at your service 24/7. Welcome to talk with us about your projects.